SolidifyTM
Unrivaled property verification. A high performance static functional verifier, Solidify stands as the most technologically advanced tool in its class. Provided as complete property verification environment, it includes multi-language support, source code debugging, interfaces to simulation, plus a host of advanced features.
Painstakingly enhanced and refined during its over 10 years in production, Solidify is a mature and widely deployed tool. Boasting both speed and capacity, it represents the state of the art in property verification.
Peerless and powerful, Solidify is the tool to beat.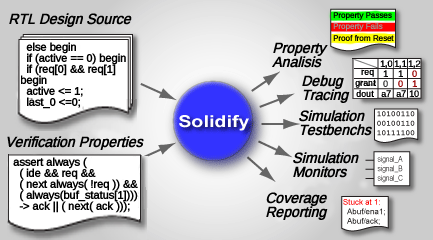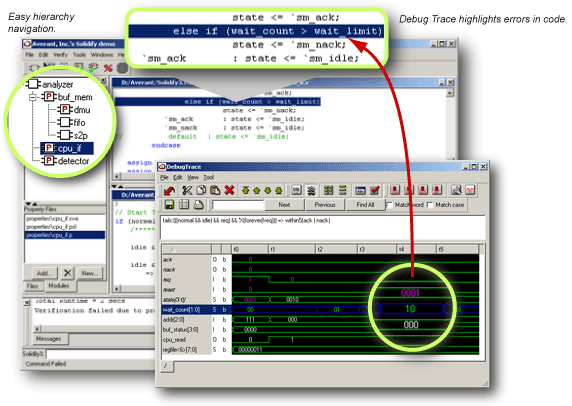 Functionality
Property verification, Multiple formal engines, Sequential redundancy removal, Testbenchless bug hunting, Source-code debugging
Customizable engine cooordination, Patented Property code coverage, Reset sequence guessing
Hierarchical verification, Multiple clock support, Memory model generation, Multi threading, Verification database, Poperty lint, Pass property trace, and more
Languages
Verilog, VHDL, SystemVerilog, mixed
SVA, PSL, OVA, OVL, HPL property languages
VCD, SDC, LIB
Outputs
Property Analysis, Debug Tracing, Wave forms
Testbench generation, Synthesizable monitor generation, Property languages cross translation
Coverage Reporting
A First Demo of Hardware Property Verification
SVA: Essentials for Formal Verification